The industrial automation market has changed considerably over the years, and at this time the request is focused heavily on machines for processing small quantities, costs and setup times are reduced.
Thanks to the flexibility that has always characterized our Company, we have designed and built customized mechanical devices and special machines for the needs of the most different sectors, with changeless quality standards that has enabled us to develop strong links with successful companies.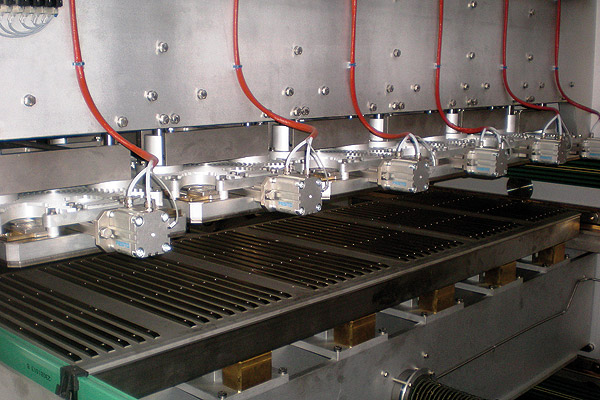 These are only a few examples of CLM SRL customized production:
equipment for the insertion of blades in office chairs: the operator only has to deal with the load piston, while the blades are loaded automatically;
packing machine for clothes hangers: made for Co. IKEA, the equipment breaks down and packs individually crutches in groups of four;
turntable for machining of stainless steel handles, with calibration of the outputs by milling, flaring, inserting of plug with hexagon and cap;
grilling device for slices of bread, compared to standard machines, this equipment designed by CLM ,allows a substantial increase of the grilled quantity ;
ultrasonic cutting device for pizza: pizza, loaded on the conveyor belt, passes under the ultrasonic knife, thought up by CLM, that can cut into slices or squares depending on the requests;;
linear equipment for the flare and the thread of plaques for the door handles;
equipment for the assembly of the handles with washers: the washer is placed inside the handle, then the material is warped and gaping, in order to ensure a perfect fixing;
wind groups according to specific drawings of the customer.
machine for coining and testing of electric heaters
CLM has experience in the manufacture of all kind of special customized machines.
Contact us for more information, our staff will be proud to answer to your questions.